Stories of all sorts (Part 1)

Octoboer 28 2021 - Ships crashing and giant turtle



Octoboer 11 2021 - Celine Dion funny video
September 16 2021 - funny video
7-12-2021 More nice vids
4-9-2021 Nice vids
Feb 8 2021
Dedicated UPS driver
Jan 12 2021
A peaceful and lovely video
January 6 - 2021
Very funny humor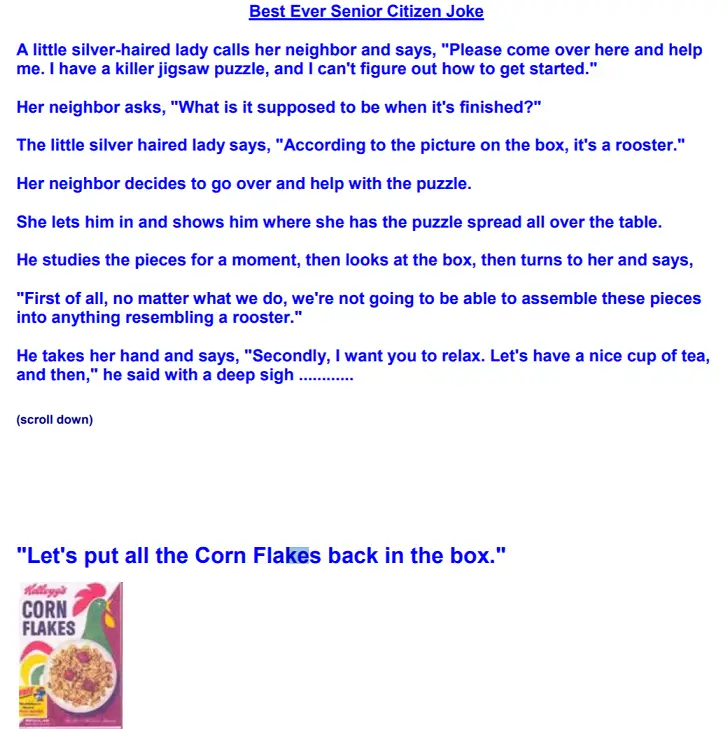 July 17 - 2020
Viral moments from the Olympics
June 10 - 2020
Did an African American invent Rock and Roll. Watch for yourself.
May 29 - 2020
When a pro pianist sits down to play
April 4 - 20120 Squirrels
I get it. I put out sunflower seeds for the squirrels and they love them. I just throw them on a tree stump I had to cut down. For those that say corn I can tell you they mostly avoided the corn. Googling I can see on Doorstepzoo.com that squirrels like fruit, berries, vegetables, nuts, bugs, fungi, eggs, and seeds. But mainly I see them ignore everything but sunflower seeds in my first test. They do prefer nuts which I assume is like the dessert. It takes them about 5 to 15 minutes to hit the tree stump of food once I put it down. Usually birds hit it first then the squirrels come and now they are fighting over the tree so I will have to spread food out more it seems. Enjoy this video I found on youtube. Never figured someone would do this.
Sept 12 - 2019 Turtles like watermelon
Who doesn't. But I found someone who does....look
August 8 - 2019 Keys to taking care of a car
First if you are buying a used car do Car Fax but try to borrow or get a device that reads car codes like
Blue Driver
and if you get no error codes and it passes other checks you do like oil checking, transmission oil, other fluids and the tires are not old and worn out then you take it to a mechanic for a final check. It is worth the money. Don't forget one of the best checks which is the service bulletins. For example I googled my car and the search I used was ' service bulletins hyundai sonata ' and then the first entry on that page
was this search.
. Now I could see the 2011 looks horrible and my 2008 didn't have that many bulletins. If I was buying a used car I would check the bulletins!!
Now those people that own a car. Read the owners manual. Find out what maintanance is required at so many miles. Use the correct engine oil as the manual will tell you for example 5w-20 or 5w-30 etc and always change the oil filter when you change the oil. Make sure your tires have the proper air pressure. Go to a mechanic you trust so you can be sure they put the right oil in and right oil filter. I buy the oil and filter as I don't want them using oem stuff. People do oil tests on youtube and I will link one at the end. Use synthetic oil and use syntetic transmission oil of the right type. If you hear noises that is not good. It could be a stuck brake or anything. Let the car warm up for 10 seconds so the fluid is running in the car before you head out.
I found a dealer who will install what I bring it but won't warranty it but that is fine. I find the best brake pads and he installs them. To get rid of my engine noise I first put in a new battery, changed the engine filter, and added some Lucas Transmission Oil and it seemed to work. But after a week the noise came back. I took it to the mechanic to have the 90,000 maintanance done at 79,000 miles. I already had a list for them so that helped them and they checked other stuff as well. They changed spark plugs and had to remove carbon buildup and did other tests and when they were done the noise was gone for good. Also, never use a water hose to clean your engine! That water will ruin the electronics.
Final tips. After winter, take the car to a car wash after winter to get salt off of it. And don't idle the car to long because idling makes the car engine over heat. If you are buying a car from someone don't pay dealer cost because you will get financing at the dealer and a warranty. And remember to change your air cabin filter!!
Nobody ever checks the air cabin filter....Wow as that can clog and bring mold in the car and do other damage.
April 4 - 2019 Why Do People call McCain a hero?
Because he was! My whole family served in every War and I understand the military. I do take exception that Trump attacks McCain and after he has passed away. McCain risked his life for his country and President Trump made an excuse to get out of serving. Trump doesn't understand when your are in war and in the front line you are risking your life. Getting shot down over enemy lines means 99% odds you will be captured but he flew the missions anyway. McCain had bravery and did the job his country called him to do. That is a hero. The only hero Trump could spot is the sandwich. He won the presidency and I respect his post but it is a public servant job and he should remember that because the next elections are coming fast. And he is completely out of touch.